We dedicated the first half of this year to the »Colors in Art«.
Color is one of the most important elements of impressionism. As there are four well-known French impressionists painters: Claude Monet, Eduard Manet, Edgar Degas and Auguste Renoir, we also had four Slovenian impressionist painters. One of them is Matija Jama, who was together with Rihard Jakopič, Ivan Grohar and Matej Sternen, one of the best representatives of Slovenian impressionism.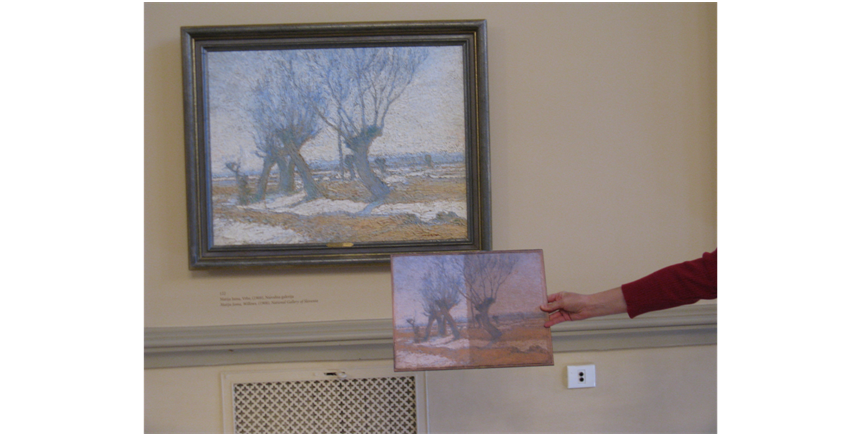 And because Matija Jama was born in January , I would like to introduce him to you. So- he was born in Ljubljana on January 4th in 1872 and he also died in Ljubljana on April 6 th in 1947.
He began to show his interest in painting in grammar school, but he enrolled in the law school, quit his studies and left for Munich, where he enrolled in Anton Ažbe's art school. He studied at the Munich artistic academy, but he never finished his studies there.
Matija Jama lived and worked in different places throughout Europe: Austria, Croatia, Germany and the Netherlands. He also married a Dutch painter Luiza van Raders. Finally, he returned to Slovenia and he settled in Ljubljana.
He was excellent in oil paintings. His idols were Italian and French impressionists, amongst whom the most influential was Claude Monet.
Jama was essencially a landscape painter. His true inspiration was nature. He was using a paint brush and a painting spater and he made most of his painting outdoors- »en plain air«, therefore we can find the remains od leaves, twigs and flowers in his paintings.
He has researched the light in all its forms.He has constantly upgraded his motives in line with the optic theories of his time.
We can see his pictures in the National Gallery in Ljubljana, but you can also click on the link below:
https://www.ng-slo.si/si/stalna-zbirka/1900-1918/matija-jama?tab=collections&authorId=506